Eminence Organic Lilikoi Mineral Defense Sport Sunscreen
Regular price
Sale price
$58.00 CAD
Unit price
per
Vegan VEGAN Nut Free NUT FREE Gluten Free GLUTEN FREE
An easy-to-apply sport formulation for face and body, this SPF 30 mineral sunscreen is non-greasy and water-resistant up to 40 minutes. Highly effective for outdoor activities like swimming and high-performance sports where perspiration can impact standard sunscreen efficacy, this zinc oxide sunscreen protects from head to toe.
Retail Size: 5 oz / 147 ml
Apply a liberal layer over the face and body 15 minutes before sun exposure and leave on. Reapply at least every 2 hours. Reapply after 40 minutes of swimming or sweating and immediately after towel drying.
Key Ingredients
Zinc Oxide: natural mineral blocks UV rays to protect skin from sunburn
Lilikoi (Passion Fruit) Seed Oil: contains Vitamin C and antioxidants which help with the visible signs of aging
Raspberry Seed Oil: moisturizer. Antioxidant and rich in Vitamin C which minimize the appearance of aging
Aloe Vera: moisturizer; soothes dry skin, alleviates the appearance of damage from sun exposure, hydrates and softens the skin
We Believe in: We say NO to:
Organic Parabens
Natural Phthalates
Biodynamic® Sodium Lauryl Sulfate
Sustainable Propylene Glycol
Cruelty Free Animal Testing
Our natural, organic and Biodynamic® ingredients may have slight variations from harvest to harvest.
Water resistant 'sport' formulation helps keep skin protected from UV damage even when swimming or sweating
Antioxidants minimizes the appearance of accelerated aging
Delivers a lightweight finish with a fresh, natural look to the skin
Eminence Organics is constantly innovating our product formulations to deliver the best results.
Share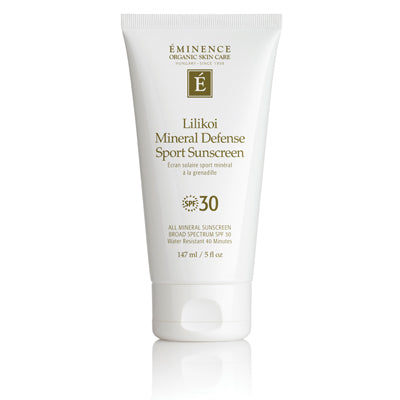 Seems good, smell is kinda different
I have only used for a couple of days. I like that it doesn't feel greasy, goes on nice ans coverage seems good. I did notice that I have kind of a white film as I sat in the pool ….maybe I hadn't rubbed it in enough. Also the scent seems nice and light but when I have it on it makes me think of the smell after you come out of a tanning bed