Eminence Organic Clear Skin Starter Set
Regular price
Sale price
$58.00 CAD
Unit price
per
Best Sellers BEST SELLERS Award Winning AWARD WINNING Gluten Free GLUTEN FREE
Our Clear Skin Starter Set is beautifully packaged with a one-month's supply of targeted organic products to treat oily and problem skin types.
Starter Set Includes:
Clear Skin Probiotic Cleanser (1 oz / 30 ml tube)
Clear Skin Probiotic Moisturizer (0.5 oz / 15 ml tube)
Clear Skin Probiotic Masque (0.5 oz / 15 ml jar)
Clear Skin Willow Bark Booster-Serum (0.5 oz / 15 ml bottle)
One classic cosmetic bag in woven faux leather with bamboo zipper
We Believe in: We say NO to:
Organic Parabens
Natural Phthalates
Biodynamic® Sodium Lauryl Sulfate
Sustainable Propylene Glycol
Cruelty Free Animal Testing
Our natural, organic and Biodynamic® ingredients may have slight variations from harvest to harvest.
Eminence is constantly innovating our product formulations to deliver the best results.
Share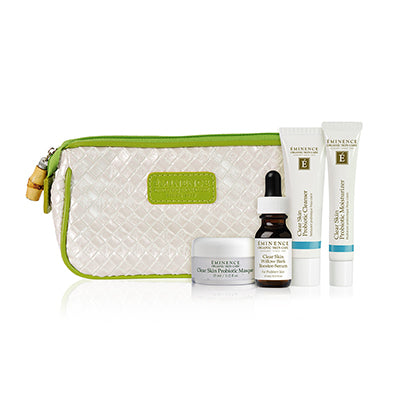 Love it!
I've tried a few Eminence products and love them all! The clear skin line is amazing for those who have sensitive, acne prone skin.. I seen results almost instantly. Briana is very knowledgeable on the eminece line and offered samples for me to try before purchasing.